CONTENTS
---
Using the Console
Adding Remote Computers in the Console
To be able to monitor the remote computers, you must first add them to the console. You can add computers in three ways:
Use File menu to add computers: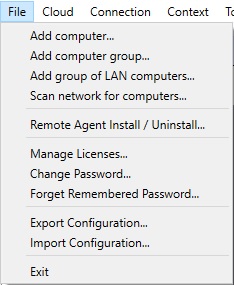 Add Computers Manually
Select "Add computer..." from File menu:
The dialog has two tabs:
Basic Options
Advanced Options
Basic Options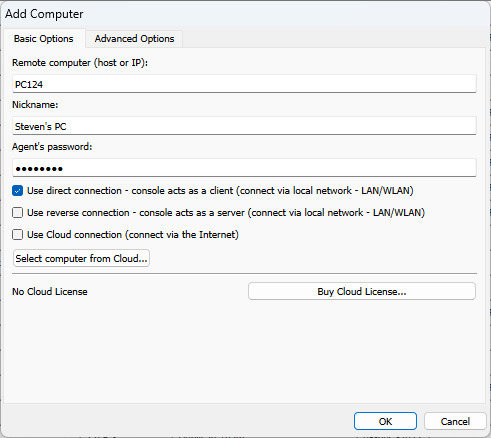 Remote computer (host or IP):
Enter the network hostname or the IP of the remote computer. When using DHCP on the local network you must enter the computer name.
Nickname:
Enter the name that you want to be displayed to easily identify the remote computer.
Agent' password:
In this field, enter the same password used when installing the agent.
Advanced Options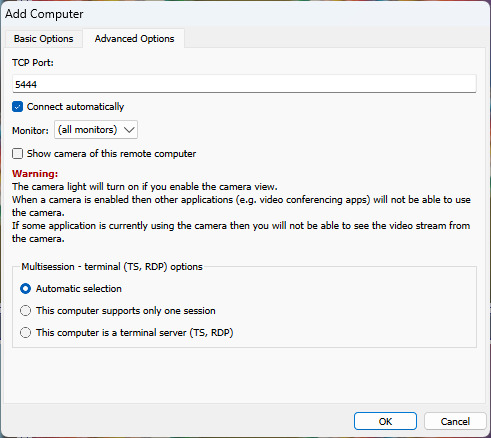 TCP Port:
In this field, enter the same port used when installing the agent. The default port is 5444.
Connect automatically:
Mark this checkbox if the remote computer should be automatically connected when the "Classroom Spy Pro Console" starts.
Monitor:
Select which monitor will be displayed as thumbnail.
Multisession - terminal (TS, RDP) options:
Select if your computer is RDP, TS server. This will allow you to see all remote sessions.
Scan Network for Installed Agents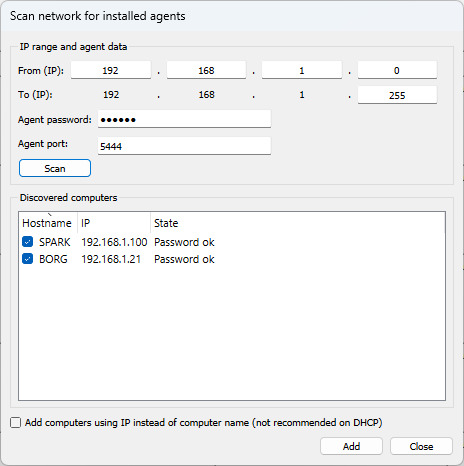 If you already installed agents on remote computers, you can scan the network and add them automatically.
Add Group of LAN Computers
You can automatically add computers on your LAN. Agent can be installed remotely if your LAN permits this (e.g. if you are NT DOMAIN Administrator).
Remote Computers List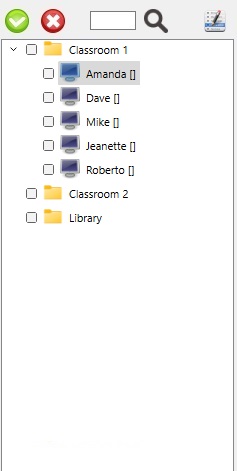 The "Remote Computers List" displays all computers added. The computer icon displays the state of the remote computer. The commands above the remote computer can be easily accessed using the "Object Menu", which can be invoked using a right mouse click.
Computers can be organized in groups - use "Add computer group..." from File menu.