CONTENTS
---
Install the Application

The application consists of two modules that must be installed:
Classroom Spy Pro Console
Classroom Spy Pro Agent

Installing the Classroom Spy Pro Agent
The "Classroom Spy Pro Agent" must be installed on all remote computers that you want to monitor. To do this, you must have administrative privileges.
NOTE:
On Windows XP, Windows Vista, Windows Server 2003 or Windows Server 2008 you need to install update from this web page:
http://support.microsoft.com/kb/971513
Update has to be installed on all computers where agent is installed and is necessarily to successfully block web pages on various web browsers.
Agent can be manually or remotely installed.
Remote agent installation is possible only on NT based operating systems (Windows XP, Windows 2003, Windows 7,8,10) with administrative privileges. Please note that used port will be automatically open only on Windows Firewall. On all other firewalls you will have to open this port by your self. Remote installation can be done on LAN, WLAN or VPN. The remote installation over the Internet is not possible unless you use VPN network.
Remote Agent Deployment over Active Directory
MSI package for agent that can be used for remote deployment over Active Directory can be downloaded here:
http://classroomspy.com/dwn/classroomspypro_agent.msi
It can be installed like this:
msiexec /i classroomspypro_agent.msi PASSWORD=myAgentPassword /qn
You need to deploy as usual using package classroomspypro_agent.msi and specifying a MSI property
PASSWORD=myAgentPassword
The myAgentPassword is the password you want to use.
Manual Installation
To manually install an agent please go to remote computer and run the installation program.
In the first installation window click on second option Install "Classroom Spy Pro Agent".
On the end of installation you will have to configure an agent. To do so please read the chapter Agent Configuration.
Agent can be installed in stealth mode (select "Stealth Agent Install" checkbox).
In such way no program group is created, application does not appear in Add/Remove programs and no icon is displayed.
Agent Configuration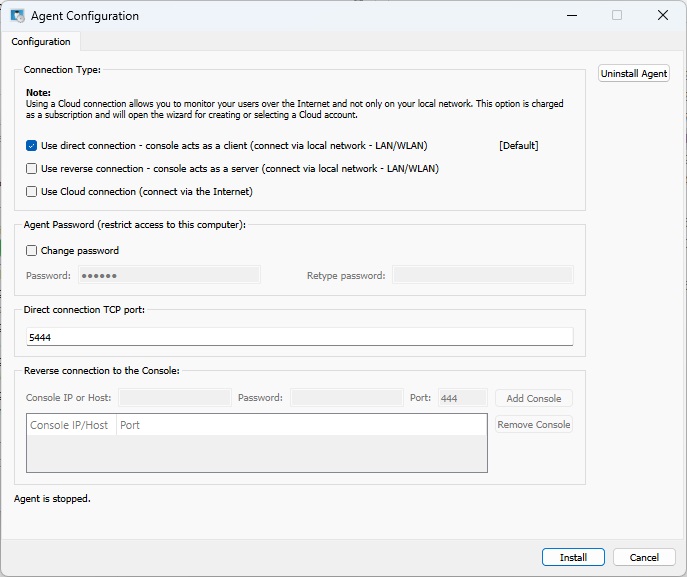 During installation, you need to type the password that protects the configuration and access to the agent. Here, simply select one password and remember it. Note that the default port on which the agent operates is 5444. You can change this port during installation or, later on (Advanced Configuration tab). If you use a firewall, you must open the used port.
Remote Installation
To start remote agent installations click with right mouse button on computer in a list.
Object menu will aper: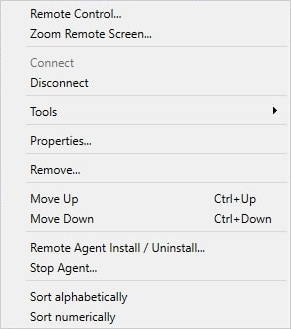 Choose Remote Agent Install / Unistall.
After that this login screen will appear: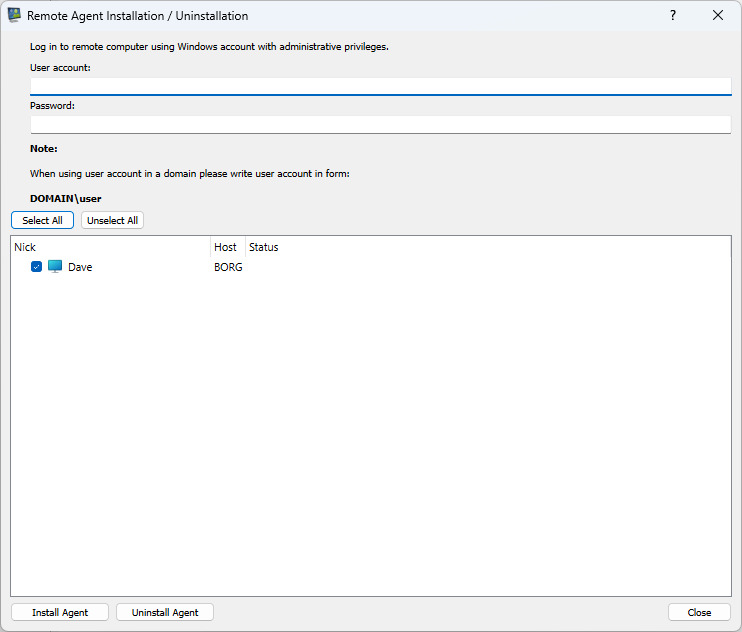 You have to enter the information about the user account on the remote computer that has administrator privileges.
Installing the Classroom Spy Pro Agent on Terminal Services (RDP) Server
Application can monitor individual TS (RDP) sessions. In this case agent has to be installed on Terminal Services Server using the same procedure as described in previous chapter.

You need to add only server to the monitoring console because sessions will appear automatically.
When adding server to console select "Advanced Options" and choose option "This computer is a terminal server (TS, RDP)":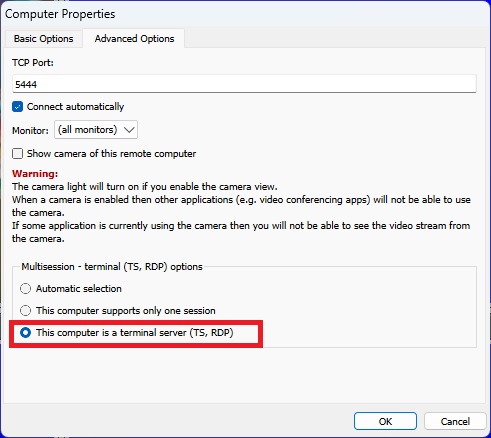 Installing Classroom Spy Pro Console
The "Classroom Spy Pro Console" must be installed on one or more computers from which you want to monitor the remote computers.
To do so, you must login to the computer - from where you want to monitor - as the user that uses this computer (or as administrator). Next, install the "Classroom Spy Pro Console". Start the console and type the password that you want to use for accessing the console. If more users use the same computer, they must all login to the computer using their accounts and set their own password for the console.